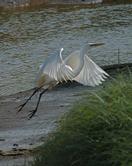 RESULTS & BENEFITS OF TAI CHI PRACTICE
WHAT CAN TAI CHI DO FOR YOU?
The answer to that question is almost limitless, and depends upon your condition, your intention, and your commitment to practice. No one can predict exactly what result will occur for a particular individual, because of the uniqueness of each person's body and lifestyle, however here are some of the common results of a regular practice of Tai Chi under the guidance of a certified instructor:
What Can I Expect?
reduce stress
slow the aging process
boost the immune system
reduce anxiety, depression, and overall mood disturbance.
lower high blood pressure naturally.
tone muscles
improve flexibility and coordination.
strengthen the body
better balance, physical, mental, & emotional.
increase breathing capacity
improve memory and concentration
enhance body's natural healing powers and recovery from injury.
powerful healing benefits on the course of almost any disease, including cancer.
integrates mind, body, & spirit.
peace of mind
alert relaxation
reduction of chronic pain, particularly in diseases such as Fibromyalgia.
balance of blood sugar levels.
enhances longevity.
a sense of empowerment from the self-care healing techniques.
more ease and grace in movement/exercise that is fun!